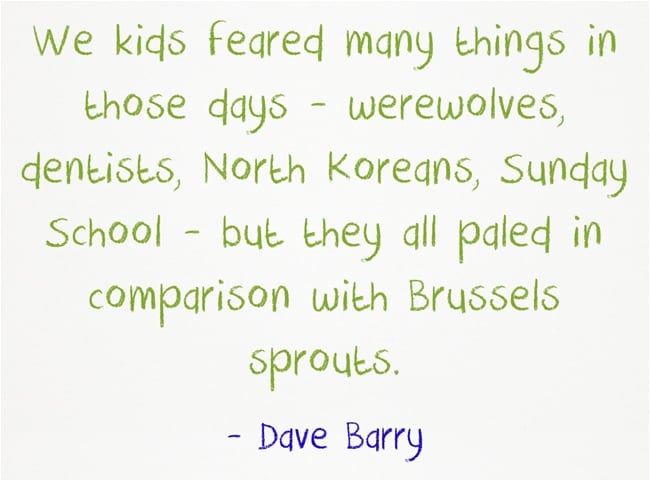 Until about a year or so ago, I didn't think I liked Brussels Sprouts. Which is strange, because I don't know that I'd ever eaten them before. Veggies growing up alternated between canned beans and frozen peas, with the occasional broccoli or cauliflower boiled and covered in cheese sauce. Though my Dad is a lover of veggies, he would sometimes make different options--but he was mostly the one who ate them.
But then, a revelation--my vegetarian older sister made some for a family dinner. I was transported--crispy, salty, and delicious! Ever since than I've made them frequently--alternating between these two methods, with different flavorings and toppings. This past year I've found a lot of foods that I thought I hated, but was really just not familiar with until I tried it again.
The original roasting method:
This is more a technique than specific recipe, and is pretty much based off of the America's Test Kitchen method--what I remember of it--so amounts vary. Pre-heat the oven to 350, and cover a cookie sheet with tin foil. Spray the foil with cooking spray.
Rinse your sprouts off in the sink, than cut the ends off and slice them in half. Sometimes I'll put the sprouts in a zip lock bag to get the seasoning all over them, but when I'm lazy or in a hurry they go directly split side down on the pan.
If I put them on the pan, I spray them with cooking spray before adding seasonings. Whether in a bag or on a pan, the sprouts are seasoned with kosher salt and pepper, and whatever other flavors you want. This last time I made them, I put fresh thyme leaves, and lemon zest in addition.
Once the sprouts are seasoned and on the pan, I add a couple of tablespoons water--or last time I used lemon juice to go with the flavoring. The pan is covered tightly with tinfoil and goes into the oven for 10-12 minutes--then the foil is removed and the oven is turned up to 400-450 for about 10-12 minutes more. I watch the time less than I do the color on the sprouts--once they have a lovely brown color on the top and bottom they are ready. I finish them off with more large grain kosher salt, and sometimes more fresh herbs or even grated Parmesan.


Roasted Brussels Sprouts--the Second Method.
This is one of my all time favorite ways to eat Brussels Sprouts--it is good cold or hot, as a side dish or a main dish with some shredded chicken added. The one downside to this is that it is more time consuming to prepare--I need to get a food processor and this would be a snap.
I take about a 1 to 1.5 pounds of sprouts--rinsed and the ends cut off. After cutting the ends off and cutting them in half, I then cut the halves in slices. Really the goal is to shred them--so if you have a food processor, cut the ends off and run them through. To get the flavor on them I toss the slices in a plastic bag. I also chop one whole yellow onion in rough dice and toss that in the bag as well. I dress the shreds with some kind of marinade or salad dressing--acid, seasonings, and a little oil.
The last time I made this I seasoned it with lemon zest, lemon juice, chopped fresh rosemary, black pepper, salt, grated garlic, honey, and a little olive oil--the same things I used to marinade the turkey. Once all of the onions and sprouts have been coated, I spread them in an even layer on a cookie sheet covered with foil and sprayed with cooking spray. Then they go in a preheated 400 degree oven for 15 minutes, then I toss them a bit in the pan, and cook them for another 15 minutes or so and check--if they have lots of brown crispy bits they are done! Sometimes I'll also cook chicken with it that is chopped fairly finely.